About us
Oscar Guitars is today Sweden's largest specialist guitar store with a focus on vintage and used string instruments, pedals and amplifiers. In the store there is a constantly changing exhibition of stringed instruments from all ages and manufacturers, some call it a museum where everything is for sale. 
The store is based on a vision that began full-time in 1997 and today, 25 years later, we are one of the the most famous vintage guitar shops in Northern Europe.  
If you want to sell your equipment, simply contact Oscar Björklund for a valuation, either on site in the store, at your home or via email (often the fastest). Our showroom at Roslagsgatan 7 in Stockholm is well worth a visit for all musicians, but feel free to bring your friends & family, there is plenty of eye candy here and we are happy to offer stories about the instruments we have in stock! We represent the brands we like, and have a close collaboration with several of the world's most recognized manufacturers of quality instruments. Always check with us first if you're looking for something unique, we would be honored to have a chance to help you find the right gear. We supply gear from all major Swedish suppliers, and we often help schools and studios with equipment. The store has been owned and operated since 2018 by the Björklund family and is one of few completely independent music stores in Sweden. .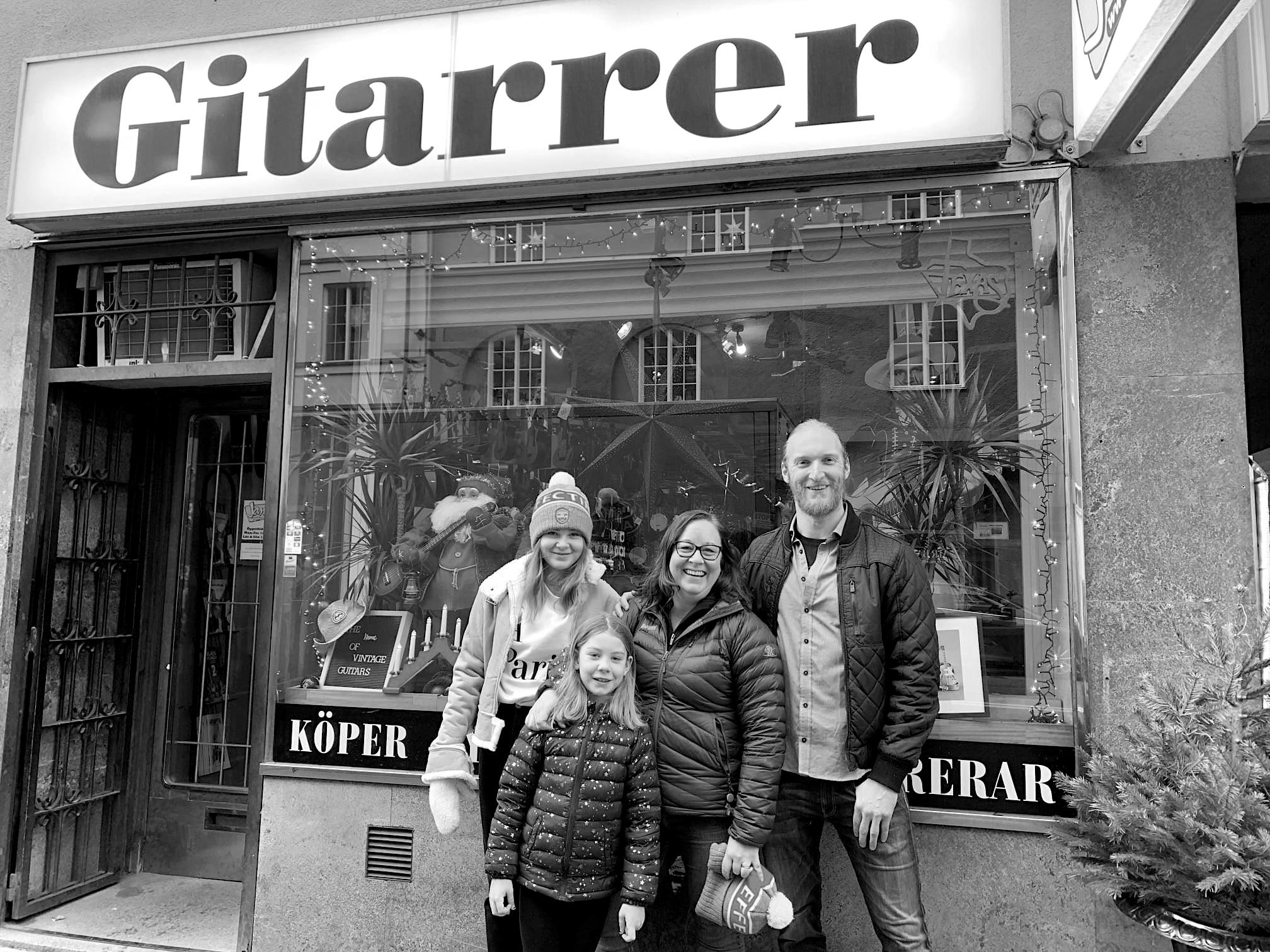 But how did it start, and where does the interest come from?
Oscar's background and history
I grew up in Mora, Dalarna.  Started playing the violin (classical and folk music) at the age of 5, played string quartet and performed with, among others, the Fresk Quartet, was inspired by local violin makers such as Allan Nilsson in Våmhus who restored and improved the sound of my violin by removing the top and removed wood to increase the vibrations. Also got inspiration from Hellzephyr Musik in Orsa where Per and Pelle took me in as trainee/work experience during my junior year, and I got to experience for the first time a real music store from the inside.  

After the violin came the guitar, then singing in choirs and playing Irish folk music in High School. At the same time we had a hard rock band from the age of 12, and arranged garage concerts for the neighborhood kids.  

Got my first electric guitar at the age of 14 and immediately started reading magazines and books about old American guitars. Got my first vintage guitar, a 1974 Gibson SG (clearly inspired by Tony Iommi in Black Sabbath), as a graduation gift. 

Tons of gigs at local restaurants and parties with the Irish folk band The Pomeroys funded my first Marshall rig. 
Has released 2 records on an Italian label with the stoner rock band Twin Earth, back in 2000 and 2004. 

Found an instrument building school at a student fair and moved to Norway for 4.5 years, 1997 to 2001. Managed to get one of two places on the popular guitar building course, and did an internship in Germany with a famous guitar building family, Joachim Schneider & Söhne, where classical guitars were built for musicians all over the world. Built 16 guitars during school and got to share knowledge from guest teachers with many different specialties from Germany and Norway in particular. 

Took my German Journeyman's Certificate as a guitar builder in 2001. Worked after school at several guitar workshops in Oslo and Sarpsborg. 
 During the last year of school, I applied for a job in the vintage market in the USA and first got 6 weeks at Toys From The Attic in White Plains, NY, about 30 minutes north of Manhattan. Was offered a job the following year as Instrument technician, moved there and lived there for 2 years 2001-2003, went to the large Vintage Guitar-shows all along the East coast every month selling and buying old guitars, refurbished legendary instruments including several original D'Angelicos, 50s Gibson Les Paul Bursts, Fender Blackguards and many custom color Fender Stratocasters from the 1960's, received a thorough education from older colleagues and after further study of vintage details they never bought anything without consulting me.  

Here, the ability to see other technicians' repairs and possible forgeries was honed. Knowledge of details from different vintages was highly valued. Famous customers during this period includes John Entwhistle of The Who, Jimmy Page of Led Zeppelin and Rod Stewart. 
 At the music fair in Frankfurt in 2000, I met my future Swedish business partners and drew up the plans for the guitar business of my dreams; a large workshop in the style of George Gruhn's shop in Nashville, lots of fine acoustic guitars, large selection of vintage instruments from every era, wooden interior and a pleasant atmosphere. The store was built while I was still in the US, but when I moved home in 2003 I was able to take care of the shop and shape it according to American standards. At first we only handled acoustic instruments but in 2007 we bought the premises next door and branched out, and I was able to double the shop area to about 400m2 and we now also had space for electric guitars and amplifiers. 

On March 7, 2018, the former co-owners were bought out and Oscar Björklund took over the store as sole owner. In the fall of 2022, the store changes it´s name from Jam Gitarrer to Oscar Guitars. 

In order not to lose touch with my American contacts, since 2003 I travel several times per year to the USA on Guitar Safaris where we rent a big car/truck and visit a few cities and states in search of fine used instruments that we can take home to the shop and restore to saleble condition. Every time we come home with around 50+ instruments, and when we unload there is great interest. Since the move home from the USA in 2003, so far we have done well over 50 trips and I have imported thousands of instruments.  

The network of contacts is constantly increasing, and what started as a passion has become a lifestyle.  One fine day, maybe the book will come with stories from all the trips, I would love to share this with you! 

As a guitar builder, I have an exciting story; the famous guitar builder Jimmy DAquisto (who has collaborated with Hagström on the guitar model Jimmy in the 60s/70s) died in 1995 and left behind a half-finished classical nylon-string guitar which, according to his log book, was one of 3 classicals ever built. Otherwise, he is best known for jazz guitars, so-called archtops. His instruments are valued today at 40-100,000 USD, i.e. 400-600,000 SEK. The spruce top was completed with ribs and signed with a date 4/6/83, i.e. 6th April 1983. The sides were bent. The rest of the material was in a pile and was only rougly prepared; neck, fingerboard, back. I was given the honorable assignment by my former employer Mario Campa at Toys From The Attic to complete this instrument according to all the rules of art, and followed the measurements of the only known nylon string completed by DÁquisto. After a lot of research and work, I was finally able to hand the guitar over to Mario in New York in October 2009. A conservative valuation of this guitar amounts to 15,000 dollars, about 150,000SEK, maybe more.